Plays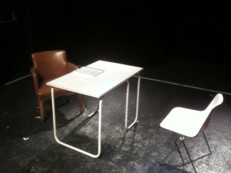 The Interview was produced in 2010 at the Arcola Theatre as part of their new writing festival. We then produced a double bill of The Interview and The Inside Man at the Brighton Fringe in 2011.
Inside My Head was shortlisted for the Windsor Fringe Kenneth Branagh Award for New Drama Writing in 2011 and produced by Bread & Roses in 2013.
Sixteen was one of four short plays I've written for Theatre503's Rapid Write Response project, and is presented here in full for the first time.
Contact me if you'd like to know more about the plays featured here. Of course a play lives on the stage not on the page, so do come along to any of our future productions. I'll keep the site updated with new projects.