Buy Exit Strategies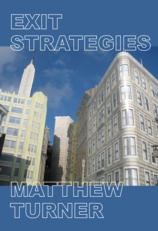 A tale of betting scandals and media lies, dead celebrities and dead-end jobs, conspiracy theories and Hollywood endings.
Exit Strategies is now available in a limited edition self-printed paperback, for £7.99 (plus P&P).
Click below to order online (with secure payment via PayPal). If you have any problems ordering through the website please contact me directly.
Note: you don't need a PayPal account to make an online payment. Simply click the Buy Now button and follow the link after 'Use your credit card or bank account'.