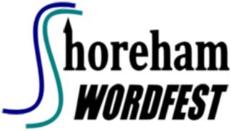 If you're in or near West Sussex you might be interested to hear about the first ever Shoreham WordFest, a literary festival running from Thursday 29 September to Sunday 2 October.
This is a new venture organised by local writers and readers. We'll be starting off with a small but perfectly formed set of events – play readings, new fiction, poetry – with a view to hosting a larger festival next year.
I hope to be involved with at least a couple of the events, and I'm doing everything I can to support this exciting project. Maybe if you're nearby you can do the same? I'll post the full schedule of events very soon, with details of how to get tickets.