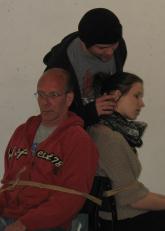 Here we are at rehearsals for The Inside Man / The Interview, with just over a fortnight before the show opens at the Brighton Festival Fringe 2011.
We're very lucky to have gathered a fantastic cast for this unique double bill:
Peter Henderson (left)
as Boris and Sir Gerald
Stephen Cheriton (middle)
as Terry and David
Alicia Ambrose-Bayly (right)
as Carol and Miss Piper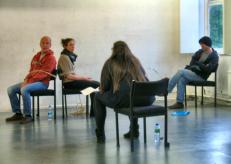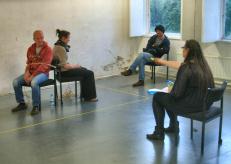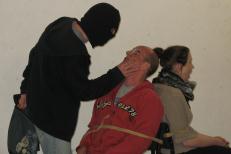 The plays are both directed by Genevieve Girling, a great young director who has worked across London at the White Bear Theatre, the Finborough Theatre and the Old Red Lion. Genevieve also recently directed a successful touring production for RealDeal Theatre.

Remember, we're on at Upstairs at Three and Ten, just off the seafront, on May 13, 14 and 15 at 3pm, and May 17 at 8.30pm.
Tickets are £8.50 (concessions: £6.50) for May 14, 15 and 17, while on Friday May 13 you can watch the show for a special rate of just £5!
To book your tickets call the box office now on 07800 983290. You can also buy tickets for all four shows online by clicking here.
And why not visit our Facebook event page and tell us you're coming? You'll find more information about the production, constantly updated as the Fringe draws ever closer!