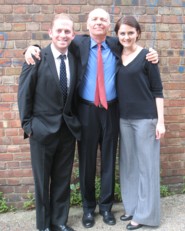 What a month! I'm delighted to report that The Interview was a great success, as was the whole 'Made In Hackney' festival. We sold out every night and had some very warm, positive responses from the audience.
It was amazing to discover what could be achieved in such a short space of time, and this was largely down to the director, Simon Pittman, and the tireless efforts of our wonderful cast. Huge thanks to Roger, Ryan and Cressida.
I've posted the opening section of The Interview in the new Plays section of the website. Let me know what you think, and as always if you'd like to read the whole play just get in touch.