New play: A Spoonful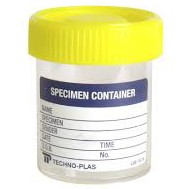 A Spoonful is a short play about a man, a woman and a specimen pot.
Written for the Rapid Write Response to Paul Murphy's award-winning Valhalla, you can see A Spoonful and six other new plays at Theatre503 on Sunday 18 October and Monday 19 October.
A Spoonful is directed by Jennifer Bakst, and features Debbie Korley as Jenny and Robert Bradley as Tom.
Tickets are £8 in advance (£10 on the night) available direct from Theatre503. Do come along to see it if you can.