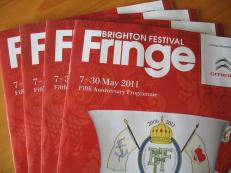 Two plays for the price of one. As part of the Brighton Festival Fringe 2011, you can see The Inside Man and The Interview on a unique double bill. This will be the first time both plays have been performed back to back as originally intended.
We will be at the lovely Upstairs at Three and Ten on May 13 (3pm), 14 (3pm), 15 (3pm) and 17 (8.30pm). Tickets for all four shows have gone on sale and are available here.
Snap them up while you can! You can also find more information on the show at our Facebook event page. It would be great if you could share the event with friends and click to say you're coming.
This is a big thrill for me, my first time at the Brighton Fringe and working with some very talented people. I know I might have said this before, but it's the largest arts festival in England, and apparently the third largest in the world. Gulp!