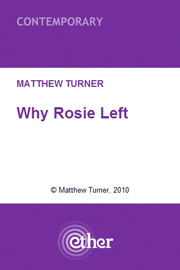 I'm thrilled to announce that my short story 'Why Rosie Left' can now be downloaded to your iPhone or iPod touch via the Ether Books app.
'Why Rosie Left' shows the evolution of a love affair, in three stages. Adam and Rosie share a past, and live cosily together in the present, but the future is driving them apart.
You can read the first section of the story on this website, or download the full version within the Ether app (free from the iTunes store).
Ether Books specialises in publishing short stories as ebooks for the iPhone or iPod touch, giving you quality fiction on the go.

You can download and read hundreds of stories by award-winning and best-selling contemporary writers wherever you are, simply by installing the free Ether Books app.